By Mark Lim, on behalf of the organisers of the Conference
The ninth iteration of the Peacemakers Conference took place from 20 to 22 June 2018, where a total of 91 students attended the three day workshop-cum-competition to learn how to resolve conflicts amicably. With 14 secondary schools taking part this year, this was the biggest turnout since the Conference first started in 2010!
Listed in alphabetical order, the schools that took part this year were: Anglo-Chinese School (Barker Road); Clementi Town Secondary School; Commonwealth Secondary School; Evergreen Secondary School; Holy Innocents' High School; Jurong West Secondary School; Kent Ridge Secondary School; Montfort Secondary School; NUS High School of Math & Science; Pasir Ris Secondary School; Paya Lebar Methodist Girls' School; Peicai Secondary School; Raffles Girls' School; and Yishun Town Secondary School.
Lessons on Peacemaking through Mediation
Over the course of 3 days, participants were introduced to the principles and processes of mediation and encouraged to consider how they can apply them in their daily lives to resolve disputes amicably. Through lessons and interactive exercises, participants learned how to manage the emotions of disputants, inspire confidence in the mediation process, explore underlying interests, and much more! In addition to practicing these new skills in hypothetical but realistic role-play scenarios, participants were introduced to how these concepts they were learning about could make crucial differences in real life situations through inspiring accounts shared by Master Mediator Mrs Chia Swee Tin.
Participants also had the opportunity to learn outside of the figurative classroom on a field trip to the Supreme Court of Singapore. There, they were introduced to the judicial system of dispute resolution, and learned from representatives of the Singapore Mediation Centre (SMC) about how even warring litigants have been able to seek out win-win solutions to their problems through mediation.
Creative Application of Lessons
Applying the lessons learnt, participants took part in two friendly competitions: a mediation metaphor exercise; as well as a series of mock-mediation sessions where participants were assessed on their ability to co-mediate day-to-day disagreements.
In the mediation metaphor exercise, participants were encouraged to work in groups to create a visual metaphor that best encapsulates what mediation is to them. The sheer creativity and imagination of the participants were astounding! While every group presented on unique and outstanding metaphors, the team that ultimately emerged first place shared that to them, "Mediation is like a Camera Tripod". In their presentation of their design, the team demonstrated their grasp of key mediation concepts of neutrality, confidentiality, flexibility, party autonomy, and a focus on the other party's interests instead of just their own. Special mention also went to the group that shared that "Mediation is like a Toilet", which parties are free to use however they like without judgment, and because "whatever is made in the toilet, stays in the toilet". Indeed the creativity and wisdom of the young often puts all of us to shame.
In the mock mediation competition, participants role-played as mediators, demonstrating to our guest judges their ability to creatively resolve conflicts they are likely to encounter in real life, such as disputes among classmates in group projects, and emotional fights between long-time friends. After four grueling rounds of competition, NUS High School of Math & Science and Jurong West Secondary School emerged as the top two teams.
The finalists had the unenviable task of mediating in front of our distinguished panel of judges at the final round of the competition. This year, we were honoured to have our judging panel consist of Judge of Appeal Judith Prakash, Mr Loong Seng Onn, and Professor Joel Lee. Set in the beautiful David Marshall Moot Court at the Singapore Management University's School of Law, our finalists were given the challenge of mediating a dramatic and emotionally-charged school conflict, with the added pressure mediating in front of an audience of all the facilitators and participants of the Conference.
Both teams rose to the challenge and put up solid performances worthy of the occasion. Commenting on the outstanding performance by the two finalists, Executive Director of SMC, Mr Loong Seng Onn, noted to an agreeing audience how the caliber of the student mediators was akin to even that of professional mediators with many years of practice. Justice Prakash also commended the finalists for their ability to grasp such difficult concepts and apply them with such proficiency in such a short space of time. After a lengthy process of deliberation, Jurong West Secondary School eventually emerged as the champions for the second consecutive year – the first time any school has won the Conference twice in a row!
Aside from the finalists, five participants were recognised for demonstrating great spirit in learning and growing as mediators. They are Schifra Na'lya Bte Roni (Peicai Secondary School), Jayden Heng (Anglo-Chinese School (Barker Road), Nur Kaisah Bte Abdul Kadir (Evergreen Secondary School), Liu Yunting (Raffles Girls' School), and Stella Tan Si Xuan (Yishun Town Secondary School).
While winners had to be declared for these aspects of the Conference, it was the unanimous opinion of all the judges and facilitators that the participants this year were exceptionally talented, and that we are confident that they will go on to be effective peacemakers in their respective communities and spheres of influence.
Thank You!
The organisers would like to express our sincerest appreciation to the many people who helped to make this Conference a great success. First and foremost, we would like to thank Judge of Appeal Judith Prakash, as well as Professor Joel Lee and Mr Loong Seng Onn, who kindly took time out of their busy schedules to judge the final round of the competition.
Next, we would like to thank Raffles Girls' School for being such gracious hosts over the course of the entire Conference. Special thanks go to RGS Principal, Mrs Poh Mun See, and teachers, Ms Audrey Chen and Mr Joseph Toh. We also wish to thank Singapore International Dispute Resolution Academy and Singapore Management University for hosting our Finals at their beautiful campus.
The Conference would not have been a success without our many sponsors and supporters including the SMC, the Singapore International Mediation Institute, the Community Mediation Unit, Lim Siang Huat Pte Ltd, our guest judges for all the qualifying rounds, as well as the teachers and schools of all of the participants.
Finally, we would also like to thank the participants of the Conference, who have demonstrated impressive and inspiring amounts of creativity, tenacity, and eagerness to learn. It is our hope and belief that they will go on to bring great change to the lives around them not just as peacemakers today, but as the Peacemakers of tomorrow.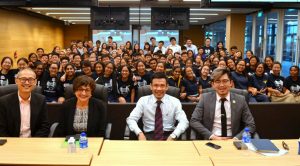 ---
For more pictures and videos of the Peacemakers Conference 2018, please visit the Peacemakers Facebook Page.
As Singapore's leading peer mediation experts, Peacemakers has an extensive track record of managing and delivering conflict resolution training for youth at both local and international levels. If you would like to train your youth to better manage conflict, let us know how we can help via email at mediate@peacemakers.sg.