The Art of Connecting Instantly
Developing Acuity and Building Rapport
Develop key communication and rapport-building skills, and build instant connections with others through the mastery of your voice and body language.
Have you ever wanted to instantly connect with your colleagues, clients, or friends? Do you want to increase your chances of success in an interview, board meeting, or negotiation? Do you aspire to be a leader who can connect with and influence others around you?
Neuro-Linguistic Programming (NLP) is a model for studying human behaviour and communication. NLP helps you to understand how people take in, store and process information, giving you a deeper and advanced understanding of human psychology and behaviour.
Drawing from over 30 years of experience, Professor Joel Lee will share with you frameworks and techniques from NLP to observe others and connect instantly. This course provides bite-sized and accessible lessons packed with rich insights to enable you to build rapport easily and effectively.
You will learn how body language and voice tone fit into the larger communication package. You will develop skills that will assist you in making fine observations about others and to instantly connect with them using your voice and body language. You will be able to apply these techniques immediately to improve the way you build relationships, be it in your business, organisation, or personal life.
We look forward to you joining us in this course, and taking one step closer to solving the People Puzzle!
What You'll Gain
✅ Understand the foundational pillars of Neuro-Linguistic Programming and how it can improve your professional and personal life.
✅ Learn how body language and voice tone fit into the larger communication package.
✅ Develop skills that will assist you in making fine observations about others and instantly connecting with them using your voice and body language.
✅ Be able to apply these techniques immediately to improve the way you build relationships, be it in your business, organisation, or personal life.
✅ Be trained by an award-winning law professor from one of Singapore's top universities who is a leading figure in the international mediation and negotiation scene.
Course Content
🧠 Sensory Description
🧠 Developing Sensory Acuity
🧠 Calibrating to Verbal and Non-Verbal Cues
🧠 Components of Communication
🧠 Building Non-Verbal Rapport
Who Should Attend
✅ Professionals who want to become more influential and successful in their business communications and relations
✅ Executives, lawyers, teachers, healthcare professionals, or any other profession that relies on connecting with other people on a daily basis
✅ Anyone who is facing difficulties connecting with and understanding other people in your life
✅ Anyone interested in Neuro-Linguistic Programming, or in understanding the psychology behind human behaviour and communication
Pre-requisites
📚 Trainees should possess a working proficiency of the English language.
📚 No prior professional experience or qualifications are required for this course.
📚 This course is a foundational course to Neuro-Linguistic Programming and rapport building, suitable for anyone interested.
Course Completion
🎓 Trainees must meet the minimum 90% attendance and pass the associated assessment to be awarded a Certificate of Completion.
🎓 The assessment consists of a practical component (small group exercises) and a theoretical component (take-home assessment).
🎓 Trainees who obtain all 4 Certificates of Completion will be certified as "People Puzzle Practitioner: Communication Level 1".
Trainer's Profile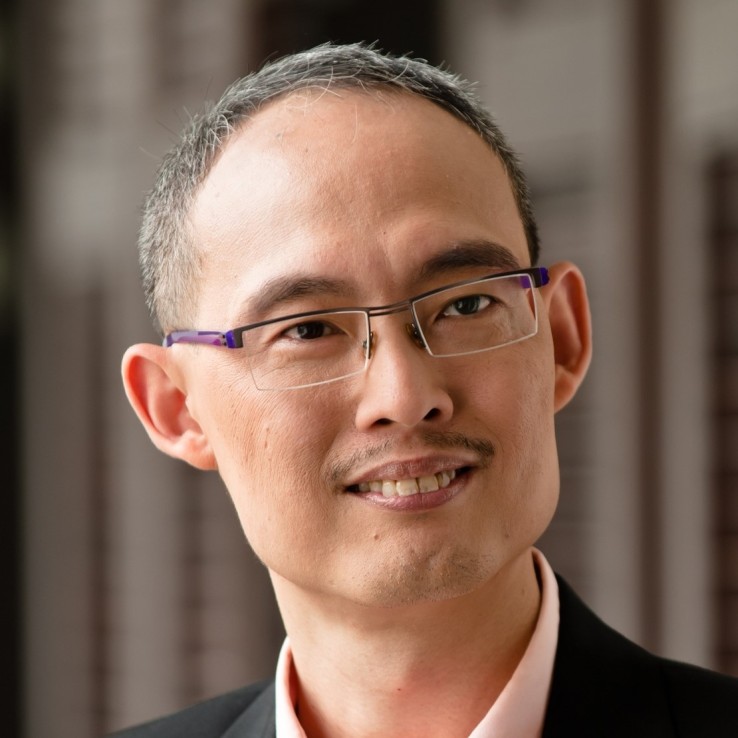 Professor Joel Lee
Training Director & Master Trainer at Peacemakers
Joel Lee is a Professor at the Faculty of Law, the National University of Singapore. Joel co-pioneered the teaching of Negotiation and Mediation in the Singapore Universities and has played a significant role in furthering the development of mediation in Singapore, not just in education but in practice. A graduate of Victoria University of Wellington and Harvard Law Schools, Joel is a partner with CMP-Cambridge (USA) and a principal mediator with the Singapore Mediation Centre.
Joel was a member of the International Mediation Institute's Independent Standards Commission and Intercultural Taskforce and was also a key member of the Ministry of Law's Working Group on International Commercial Mediation. Joel is presently the founding Chair of the Board of the Singapore International Mediation Institute. He is also a Certified Trainer of Neuro-Linguistic Programming (NLP).
Joel has taught overseas at the University of Copenhagen (Denmark), University of Law, Economics and Science of Aix‐Marseille (Aix‐en‐Provence France) and Anglia Law School (UK) and is the co-editor and co- author of the book "An Asian Perspective on Mediation" and the "Singapore Mediation Handbook", and the General Editor for the Asian Journal on Mediation. In 2011, Joel was awarded the Outstanding Educator Award which is the National University of Singapore's highest teaching award.
Fees
💵 SGD 500 (Early bird rate, until 1 May 2022)
💵 SGD 800 (Regular rate)
💵 Trainees who register for all 4 "The People Puzzle: Communication" modules can obtain a 15% discount - apply "TPPCOMM"* at checkout!
*Cannot be used in conjunction with other coupons
Trainee Reviews & Testimonials
A refreshing 1 day session with lots to take home, chew on and put to practice! Prof Joel was very witty and kept us engaged throughout. Really appreciated the breakout groups and role playing that really helped in calibration and observation practice. Great for anyone looking to up their game in communicating and building rapport!
Roxanne Foo
Senior Physiotherapist, HOD, Dover Park Hospice
Prof Joel has great charisma and is definitely someone who believes strongly in what he is teaching. He turns what would normally be a dry topic, into one that actively engages and captivates participants. That is not even touching upon the skill and experience he possess in this field which is clearly demonstrated in how he is able to very effectively answer any further questions. I highly recommend anyone who is remotely interested in understanding the intricacies of communication to give this course a try!
Mervyn Lin
Learning from Joel is both an enriching and humbling experience. It is rare to be able to learn such complex and relevant skills in building rapport and connections quickly through such accessible structure and delivery. He makes the concepts look and sound easy to apply, which is the hallmark of a great communicator and trainer. Thanks Joel! Kudos also to Sean for the great organisation and running of the course as always.
Melvin Loh
The Art of Connecting Instantly was a very fun and engaging course. Professor Joel Lee's witty behaviour never fails to amuse the participants, and yet in his intellectual discourse opens our minds to a new way of understanding how to connect with people. The course also promotes active participation and provides a safe space for participants to hone their skills through the practice sessions.
Seth Tay
The course was conducted in a good format. The content is informative enough to insure participants engagement and not too long or intensive. This helps to pique participants' interests.
Gabriel Ho
President, HTL Furniture Inc.
There is a lot of engagement involved to ensure one is able to reinforce learning through application in a fun, safe and encouraging environment. Highly recommend!
Tammy Chan
An amazing experience with the Master of NLP Joel Lee!
A J Jawad
Build An Instant Connection and "Click" With Others Today!